Trump praised the Polish Government for sensible policies with regard to refugees from the Middle East. He noted that the Polish Government does not look at the "refugee issue" in a vacuum but sees it from the perspective of an uncontrolled deluge of refugees to Europe  and of terror attacks.
Video: http://youtu.be/pV29MuEm3xo?t=948 

Napisy po Polsku - Polish Subtitles: https://youtu.be/hXbKq5jAeXU?t=396



Trump criticized Hillary Clinton because she "wants to bring in refugees from Syria at a rate of 550% more than Obama who's bringing them in by the thousands and thousands and thousands." Trump added that while 

"campaigning for his wife, Bill Clinton attacked Poland, saying, "Democracy is too much trouble," which was an interesting statement, wasn't it? Democracy

 is too much trouble. And -- for Poland, apparently, because he -- he disagreed with Poland's opposition to bringing in refugees. And yet his wife wants to bring in refuges from Syria at a rate of 550 percent more than Obama, who's bringing them in the by thousands and thousands and thousands.

 " "So the -- Bill Clinton made that statement. And he talked about -- for Poland. And all of the time, I'm talking about, we can't allow people to come

 into this country from other parts of the world that we don't know who they are, where they come from, what their intentions are, and all you have to do is take a look at what happened, whether it's in New York or whether it's in San Bernardino or whether it's in Orlando or, frankly, you can go outside of the country very nicely, also. Paris and Nice, and all of the different places. Germany, look what's happening in Germany. It's a disaster. And yet Bill Clinton will make a horrible statement or like that, concerning Poland."



It is worth mentioning that Poland has over 500 years of democratic experience, more than any nation in Europe. 
In the last two years, Poland accepted over a million Ukrainian refugees and migrants, due to the  Russian supported conflict in eastern Ukraine.
Donald Trump also promised to adopt the Visa Waiver Program for Poland that would allow Polish tourists to travel visa-free to the US, the same as other European Union members.
In a remarks preceding Donald Trump's speech, former New York City Mayor Rudy Giuliani assured Polish American leaders that the Trump Administration will practice "peace through strength" by using a tough, President Reagan-style type of negotiations.
Rudy Giuliani criticized Hilary Clinton, the former     Secretary of State, for incompetent and weak foreign policy, for abandoning missile defense project in Poland and the Czech Republic, and for faulty reset policy toward Russia.
Giuliani stated
"you can be sure when Donald Trump will be elected as President of the U.S.,  Poland will have, once again, a totally reliable ally in the USA."

Video recording of Donald Trump's  Speech to Polish Americans:
http://youtu.be/pV29MuEm3xo?t=948
http://youtu.be/pV29MuEm3xo?t=555
https://youtu.be/pV29MuEm3xo?t=71
****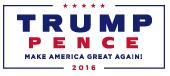 - SEPTEMBER 28, 2016 -
TRUMP CAMPAIGN ANNOUNCES POLISH AMERICAN ADVISORY COUNCIL
NEW YORK, NY – Today after meeting with the Polish American Congress in Chicago, Donald J. Trump is pleased to announce his Polish American Advisory Council. The women and men on the council are grassroots leaders who will engage with the Polish community on relevant issues.
"I am proud to have the support of the hard working Polish American community that shares the American values of love of freedom, independence and respect for family. This council will continue to advise me on how best to maintain and increase the strong ties between Poland and the United States," said Donald J. Trump.

The Polish American Advisory Council for Trump includes Dr. Lucja Swiatkowski Cannon as chair, seven co-chairs and a growing number of council members, five of whom are announced today and others forthcoming. Polish Americans from 10 states are represented by this council. These leaders have already advised Mr. Trump and Governor Pence on a number of related issues.

Dr. Lucja Swiatkowski Cannon, the council chair, is a scholar/consultant most recently affiliated with the Center for Strategic and International Studies. Dr. Cannon stated, "I support Donald Trump's insistence on a stronger commitment by all NATO members for the common defense. Of 28 NATO members, Poland is one of only five countries fulfilling Mr. Trump's call for balancing NATO's budget by meeting the goal of 2% of GDP for defense spending. It is peace through strength."

Roman Korzan of McLean, Virginia is Co-Founder of the Federation of Polish Americans. Korzan stated, "As a legal immigrant, I see the similarity between Mr. Trump's common sense refugee vetting policies and those of Poland, where the Chair of Poland's leading party said in May: 'After recent events connected with acts of terror, we will not accept refugees because there is no vetting mechanism that would ensure security."

"As a person of faith, I appreciate Mr. Trump's policy of creating a safe zone for Christians and other faiths in Syria. Poles understand the dangers of religious persecution" said David Targonski of Gastonia, North Carolina, a Reagan and Bush appointee.

A historian and journalist, John Czop, of Ridgewood, New Jersey, said: "Poland shed blood as our key new NATO ally in Iraq and Afghanistan. Poles were responsible for both the South Central Zone of Provinces (over three million Iraqis) and 9000 square miles of Ghazni Province in Afghanistan. Moreover, Polish Special Forces, known as GROM, won well-merited praise from American army officers for their intrepid raids against enemy positions."

Former Regional Director for ACTION Eugene Pasymowski of Chester Springs, Pennsylvania, says "Every one of our communities is safer right now because Poland is contributing to the NATO antiterrorist efforts by providing fighter planes and Special Forces instructors to fight ISIS in Syria and Iraq."

"I'm proud that my birthplace of Poland is a stalwart ally of my new country and contributed to peacekeeping missions in Europe, the Middle East and Africa at the side of the United States," says filmmaker Witek Rosowski of Glendale, New York; President of Solidarni 2010.

Eve Neterowicz of Portage, Wisconsin, a Reagan and Bush appointee, reminds us: "Poland and America were friends from the beginning. Poland adopted a modern Constitution on May 3, 1791, shortly after the adoption of the US Constitution. Generals Kosciuszko and Pulaski fought for freedom and independence of both Poland and the United States."

Additional members of the council will be added in the future.

Polish American Advisory Council:

Chair:
Dr. Lucja Swiatkowski Cannon, New York
Co-Chairs:
Jerzy Bogdziewicz, Florida
John Czop, Ph. D., New Jersey
Roman Korzan, Virginia
Eva Neterowicz, Wisconsin
Eugene Pasymowski, Pennsylvania
Witek Rosowski, New York
David Targonski, North Carolina

Members of the Advisory Council:
Carolyn L. Bonkoski, Pennsylvania
Ed Baran, Illinois
Denise Kuchta, Maryland
Nancy Ordowski, Arizona
Joe Sliwka, Maryland
****